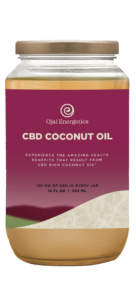 Ojai Energetics CBD Coconut Oil is Bio-Dynamically grown, raw, virgin, and cold expeller pressed. Two Powerful completely organic superfoods combined. This creamy taste of the tropics can be used in smoothies, coffee, spreads, and any recipe where coconut oil is needed.  It may also be used externally on your hair, skin, during massages. Etc
Available in a 5oz or 12oz Jar.
12.5mg CBD per ounce.
Please follow and like us: